SCIENCE IN SPEED
We take years to give you seconds. The pinnacle of Shimano road technology and innovation, the new 12-speed R9200 DURA-ACE and R8100 ULTEGRA groups are our fastest, most inspired drivetrains ever.
Speed was the driving force behind the new generation of road groups, and every decision our designers made was to make you faster. Shimano engineers worked to refine each component and every function to provide the best on-bike experience, whether you're sprinting to the finish on the Champs-Élysées or crushing your local climb.
Shimano's new premium 12-speed Di2 electronic road groups not only feature the proven HYPERGLIDE+ technology that revolutionized mountain bike shifting, but the new, wireless cockpit takes cycling's fastest electronic shifting system and makes it even faster. A new, proprietary wireless protocol increases shifting speeds without sacrificing even a tiny fraction of Shimano's hallmark precise and reliable shifting performance. Battery life is also best-in-class, with a centralized battery that delivers approximately 1,000 kilometers of worry-free riding on a single charge.
Completely redesigned hydraulic disc brakes balance speed control and stopping power like never before. DURA-ACE and ULTEGRA brakes feature easier maintenance as well as better modulation and control. Rounding out the new group, Shimano introduces a brand-new lineup of DURA-ACE and ULTEGRA wheels that perfectly blend rigidity, aerodynamics, and weight for every type of rider and every terrain. At the intersection of innovation, reliability, and control, Shimano's new 12-speed road
groups redefine the meaning of speed with precision shifting and premium performance.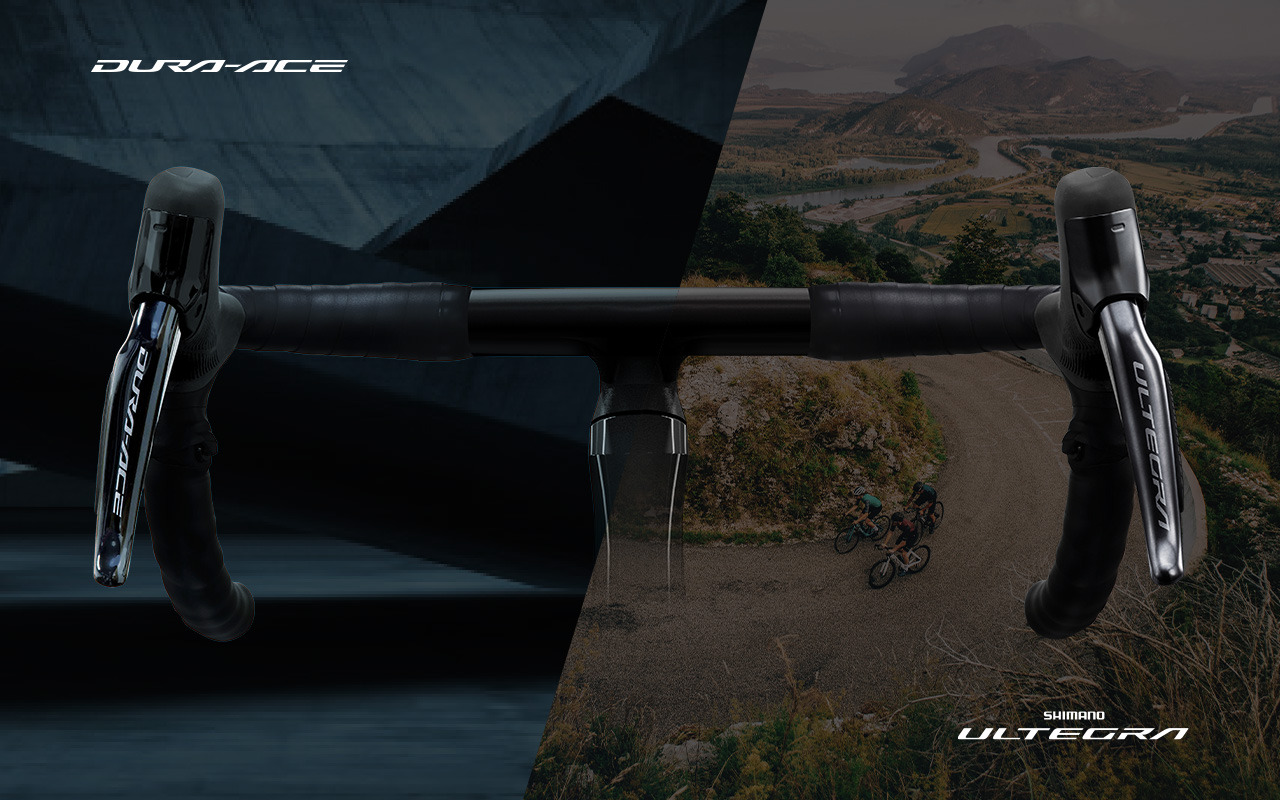 WIRELESS WHERE IT MATTERS
Shimano's new shifting systems use wireless technology where it makes sense for both day-to-day life and ultimate performance. Freeing the shift levers from the rear of the bike cleans up the cockpit and simplifies the build process. Meanwhile, connecting the derailleurs to an internal main battery ensures absolute reliability by maintaining stable voltage while also improving Shimano's already lightning-fast shift speed that has made Di2 a staple of the WorldTour pro peloton.
New Di2 dual control levers feature dramatic, all-new ergonomics and act as the wireless command center. For its new Di2 platform, Shimano developed its own wireless integrated circuit that features high security, fast processing speed, and low power consumption. Contrast that with other wireless platforms, and you get a significant decrease in interference probability, faster shift speeds, and longer battery life. And by using a single, internally housed rechargeable battery, Shimano simplified charging, kept the battery completely protected, and ensured reliable shift communication.
Wiring is also simplified with the battery now acting as the junction. Two wires leave the battery and connect directly, but separately to the front and rear derailleurs. The system also uses smaller SD300 wires, which are lighter and easier to route. There is also a fully wired option for those who prefer a more traditional set-up and for use on triathlon and time trial bikes.
Both DURA-ACE and ULTEGRA are highly customizable using Shimano's user-friendly E-TUBE App on your smartphone or PC. With E-TUBE, you can set up your drivetrain just the way you like it; adjust shift speed, alter the number of shifts per button actuation, and utilize synchro and semi-synchro functionality. You can also use E-TUBE to connect your Shimano 12-speed wireless drivetrain with Shimano Connected Partners like Garmin and Wahoo. This connectivity allows you to take advantage of features like scrolling through GPS screens using buttons on your shifter rather than taking your hands off the bars.
Indeed, in competitive racing environments where circumstances change in the blink of an eye, even a momentary delay in response can mean the difference between winning and losing. With faster gear shifting speeds, a cyclist can respond instantaneously and act a split-second faster than their opponent, launching blistering attacks, confidently accelerating in and out of corners, and sprinting victoriously across the finish line.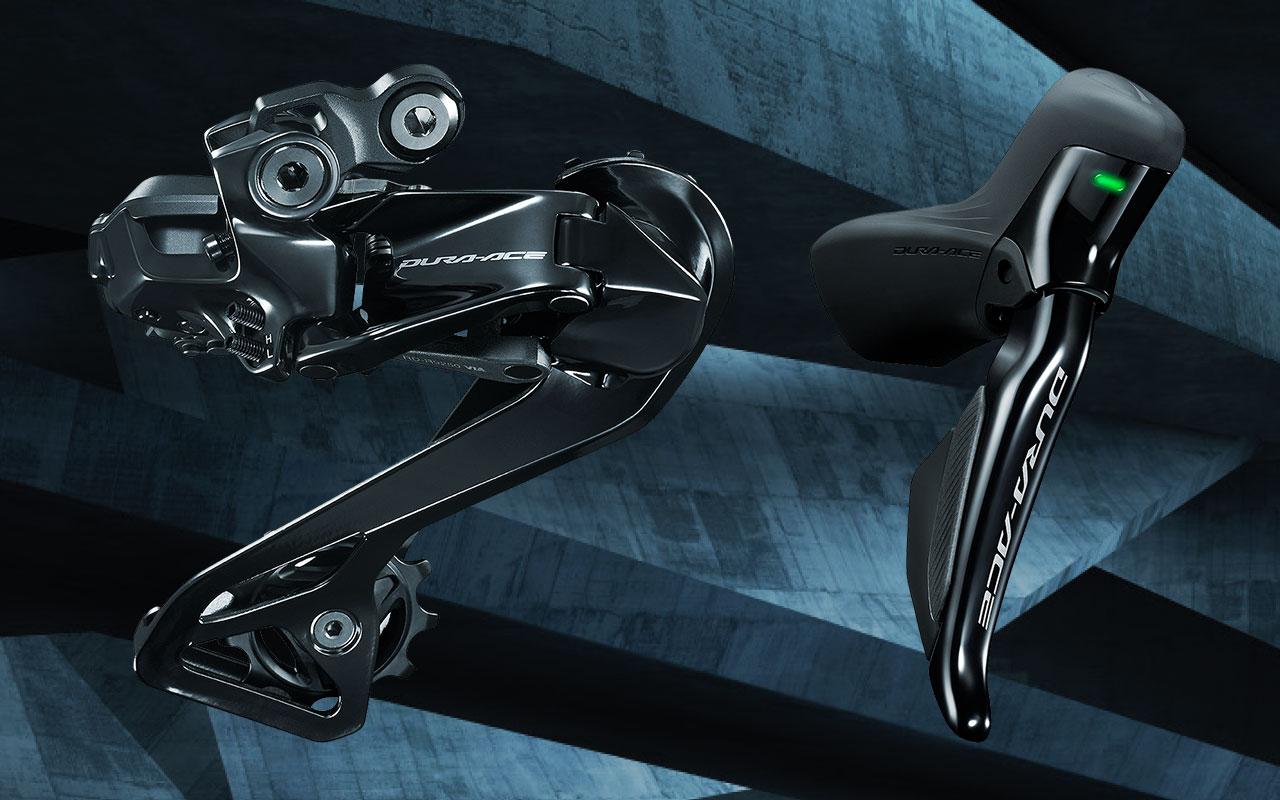 WHY 12-SPEED
In one word: efficiency. By making the move to a 12-speed cassette, riders always have the high and low gearing they need, along with an intelligent progression of gear steps in between. These more closely spaced steps increase the odds you'll find a comfortable cadence no matter the circumstance. This strategic selection process is especially evident in the "Sweet Spot" zone, where most racing-scenario accelerations occur and efficiency is paramount.
New DURA-ACE Di2 12-speed cassette options include 11-30 and 11-34, which can be paired with 50-34, 52-36, or 54-40 chainrings. These options increase the breadth of gearing for all road riders, whether a weekend warrior or a Grand Tour contender. New ULTEGRA Di2 features 11-30 and 11-34 cassettes paired with 50-34 or 52-36 chainrings.
In all cases, you can bundle in Shimano's updated DURA-ACE power meter or the all-new Ultegra power meter, both of which feature a new symmetrical design and increased accuracy that's now +/- 1.5 percent. Using technology trusted by the world's top athletes, Shimano's power meters deliver the data you need to elevate your riding.
No matter which drivetrain set-up you choose, there is just a single rear derailleur option, as Shimano has eliminated any need for long or short cage models. Speaking of compatibility, the new cassettes are backward compatible, meaning you can use your existing Shimano 11-speed freehub-equipped wheels. The only caveat is that if you make the jump to a set of new DURA-ACE wheels (more on those below), you must use a new 12-speed cassette and drivetrain, as those wheels incorporate an updated freehub body.
Shimano's new road cassettes retain an 11-tooth small cog, delivering higher drivetrain efficiency that's especially beneficial in the world of top-level racing. And with the addition of a 12th sprocket, the new Di2 drivetrains continue to deliver a gear range to meet any situation.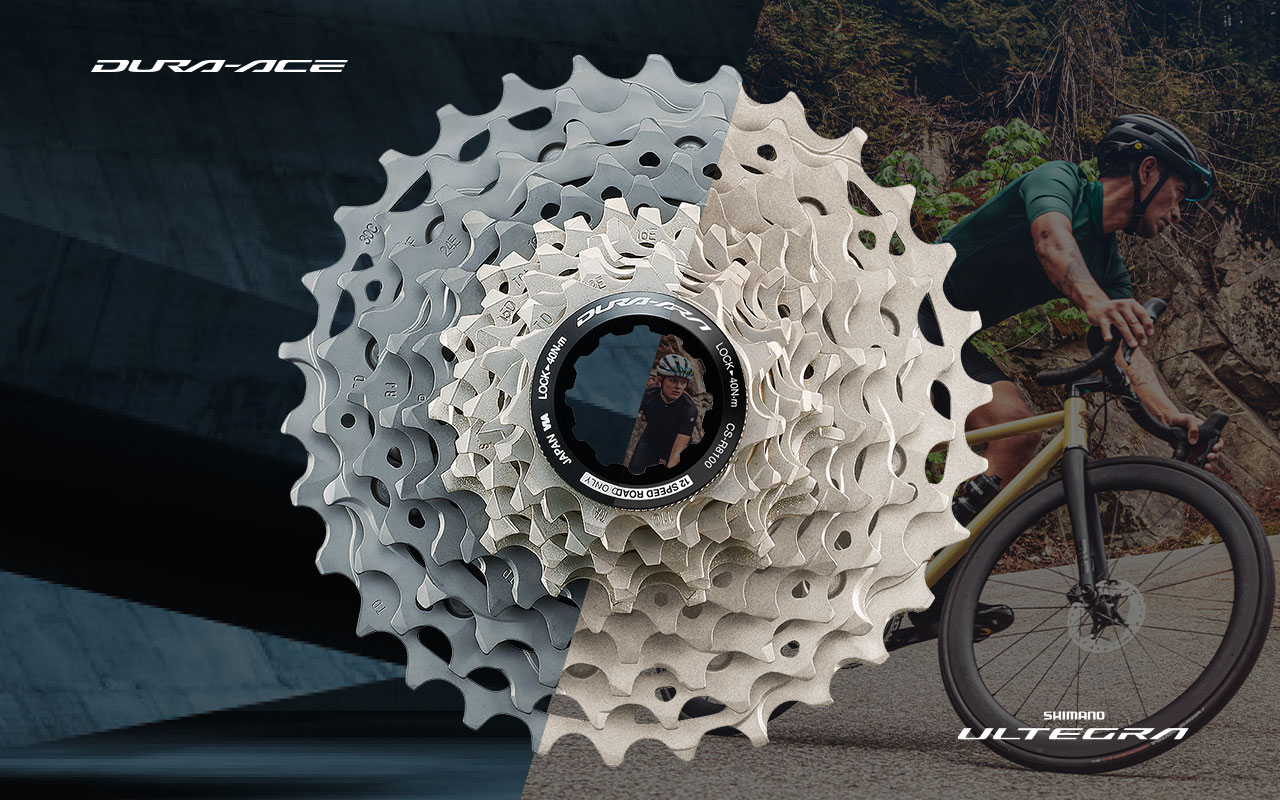 HYPERGLIDE+
The backbone of these two new groupsets is the game-changing HYPERGLIDE+ shifting technology. First introduced on Shimano mountain bike groups, this unique chain-and-cassette interface smoothly guides the chain up and down the cassette for fast and precise shifting in both directions — even under extreme pedaling load. That means no more easing off the pedals before shifting. And no more bracing for a jolt when picking up speed and shifting to maintain acceleration. Instead, HYPERGLIDE+ delivers smooth, consistent shifts every time.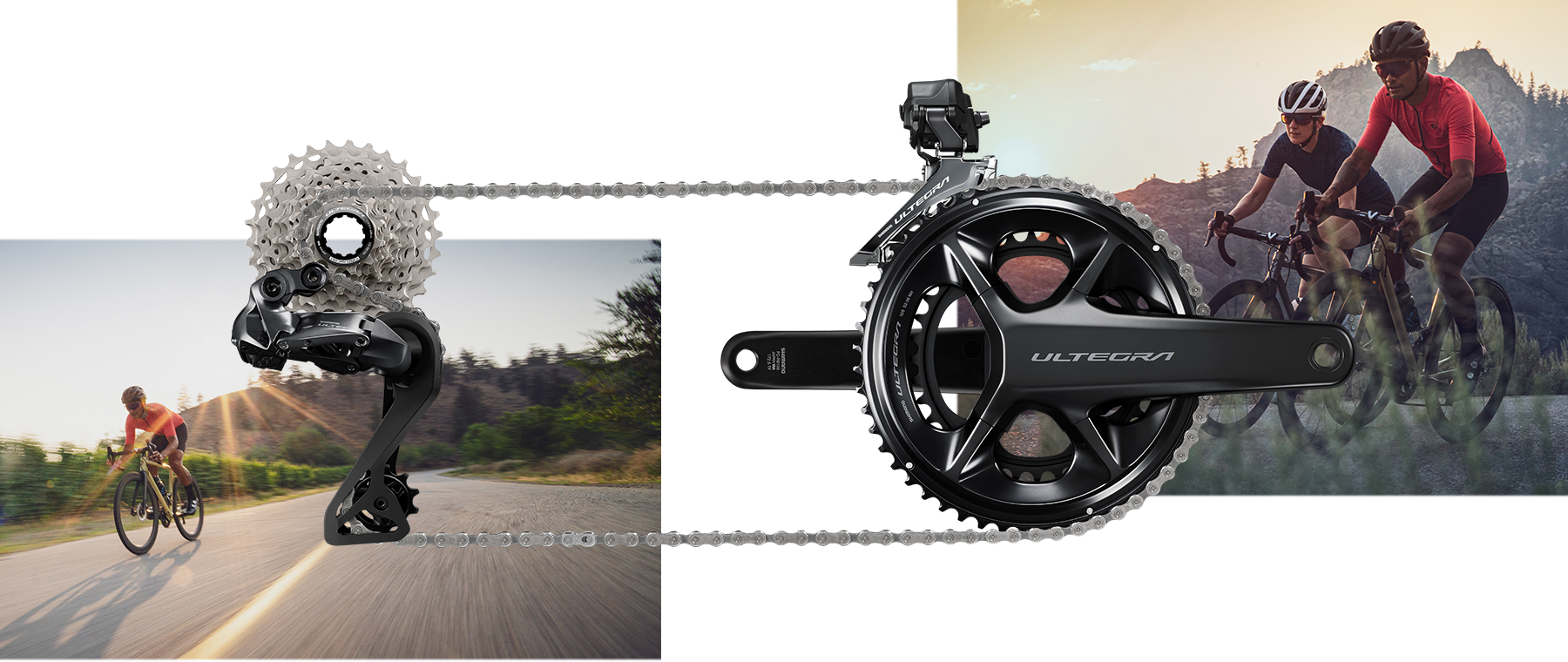 BETTER BRAKING
Both DURA-ACE and ULTEGRA also welcome new braking systems, which are quieter, easier to maintain, and deliver superior control. Improvements start with the addition of Shimano's proven SERVOWAVE technology. First developed for mountain bikes, SERVOWAVE provides a quick initial bite, then slows down lever force generation for better modulation.
The new brake calipers offer increased pad-to-rotor clearance when the brake is disengaged, lessening the likelihood of rotor rub even if a rotor is slightly out of true. Additionally, the recommended MT900 and MT800 rotors are lighter and a bit less expensive. Home mechanics will also appreciate a more user-friendly bleed process, which can be done without removing the caliper from the frame, thanks in part to a separate bleed port and valve screw.
NEW WHEELS
The final element of the new DURA-ACE and ULTEGRA packages are completely revamped wheelset lineups. Top line features include carbon rims, three rim depths, tubeless compatibility (plus tubular options), and an exceptional balance of rigidity, aerodynamics, and low weight. All the new tubeless wheels have a 21mm internal rim width and utilize a hooked bead, meaning you can use clincher tires and tubes if needed.
Riders looking for all-around performance will gravitate to the C36 wheels, which are lightweight and lively. If long solo breakaways are your specialty, the new C50 offers a superb balance of aerodynamic efficiency, low weight, and stiffness. Finally, the C60 is earmarked for speedsters who demand absolute rigidity and seek every aerodynamic advantage. With its 2-to-1 front and rear spoke pattern, thicker spokes, and deep 60-millimeter rim, the C60 HR (high rigidity) maximizes power transfer at every possibility.
All new wheels also benefit from Shimano's new DIRECT ENGAGEMENT freehub system that delivers a 63% increase in drive rigidity compared to the current C40-TL wheelset while also being 45 grams lighter. Just remember that the new DURA-ACE wheel freehubs require the use of the new 12-speed cassette, while the incoming ULTEGRA wheel options are backward compatible with existing 11-speed cassettes. Otherwise, the only major difference between the two new wheelset lines is that ULTEGRA is a little heavier due to its steel freehub body versus the alloy used on DURA-ACE options.
The launch of SHIMANO R9200 series DURA-ACE and R8100 series ULTEGRA is not simply an effort to make one-time bike setup easier or to unveil new technology for the sake of creating buzz. Instead, it represents a holistic approach that is 100-percent performance focused. Thousands of engineering decisions and refinements, over the course of several years, were made with the singular aim of making you faster. This is the Science of Speed, and it's what sets Shimano apart.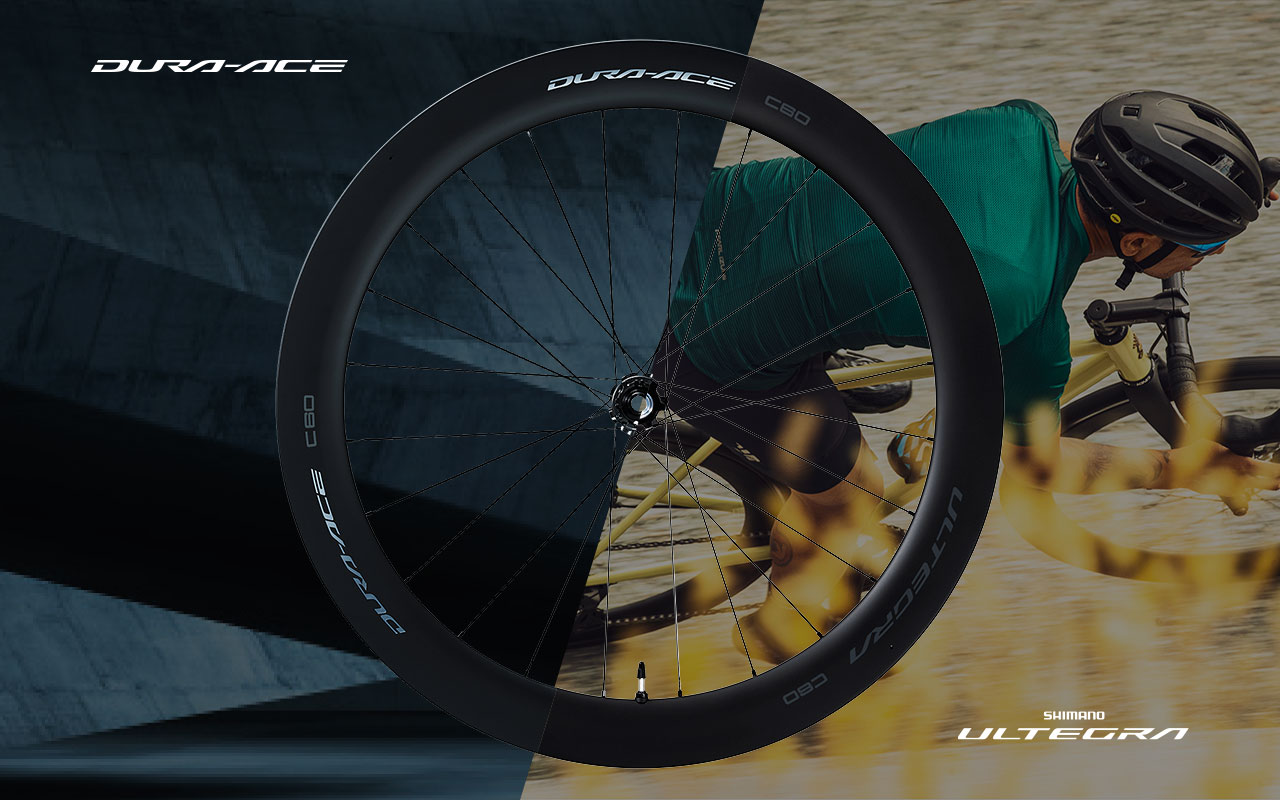 READY TO RACE THE FUTURE? find more on https://road.shimano.com/dura-ace/#components